Have an interesting hobby?
Want to share information about your business or organization?
The lighted, glass display case is now available for community displays.
Fill out the application and turn it in to the library. Upon approval, a time slot will be reserved in your name.
---
Your library resources available anytime, anywhere:
To check the status of your account, click on the 'My Account' tab on the Library Catalog page.
Be sure to use all 14 numbers on your card to log in!
---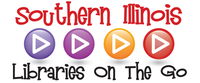 Welcome to Southern Illinois Libraries on the Go! Download audio books, e-books and music, quickly and easily, from our ever growing collection, at any time with your Library Card & PIN.
Visit us at Southern Illinois Libraries on the Go
---